Vignerons en Développement Durable (growers in sustainable development)
---
We are working to create a new generation cooperative, one in which we place people and their progress at the heart of the sustainable development process. We bring various personalities and unique skill sets together to work on joint projects, we innovate within our profession, and we encourage experimentation and original ideas.
The welfare of the growers and employees, the identification of future opportunities, the preservation of heritage, a better price for our products, ethics and respect for our customers and partners... these are the day-to-day challenges we must meet, while remaining careful not to damage our planet and our environment, the only true guarantor of a sustainable future.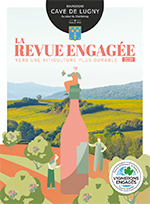 Read the "Revue engagée"
About Les Vignerons en Développement Durable (growers in sustainable development)
---
This trademark has the backing of a group of leading wineries in France, committed to an ambitious sustainable development strategy. This approach, based on 37 commitments, is the only one fully dedicated to the wine sector and is complete, well-balanced and in continual development. Since its creation, the association has enjoyed the support of local, national and professional institutions. These dedicated professionals take account of economic, social, societal and environmental issues as they innovate, tend to their vineyards, run their businesses, and create and market their wines.